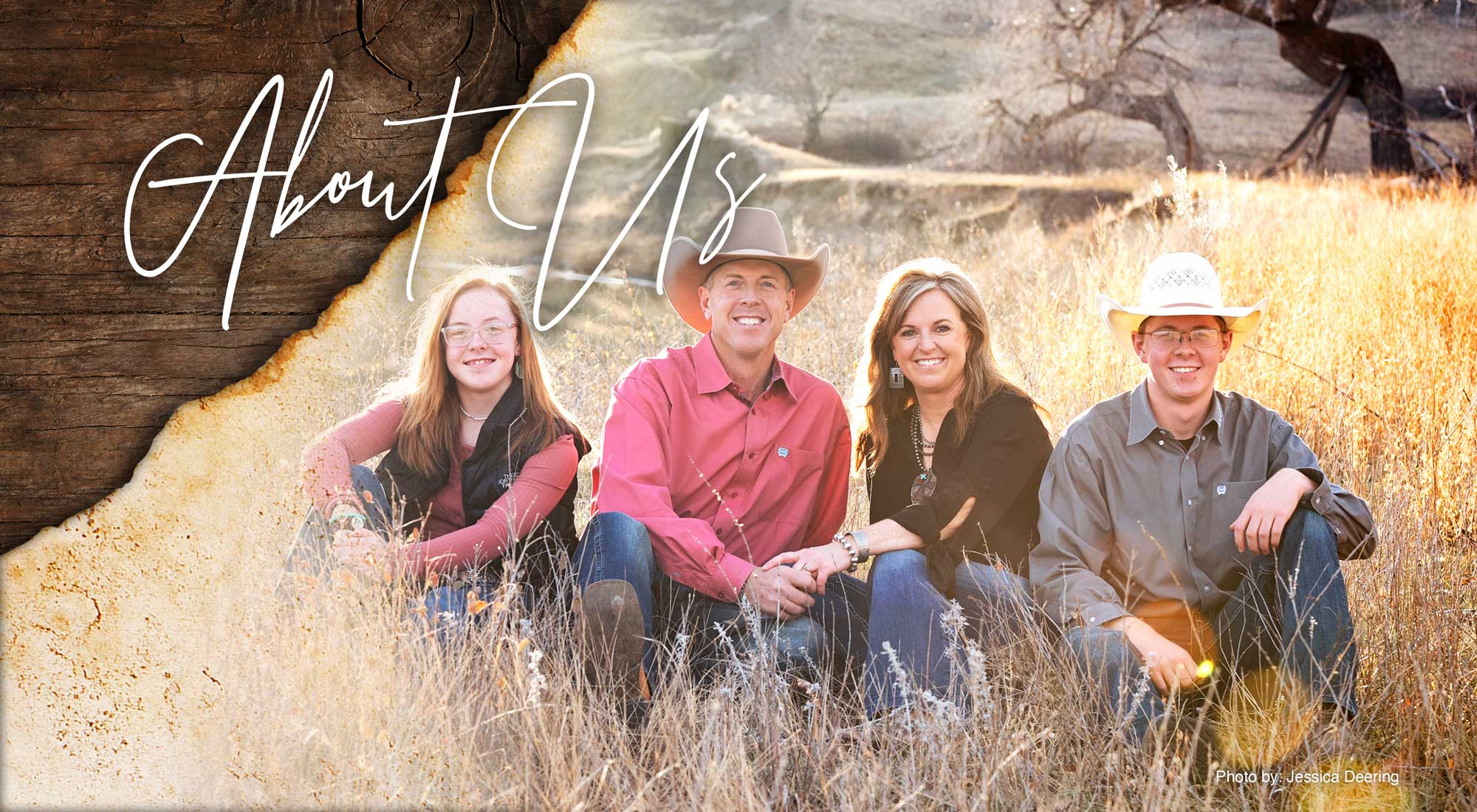 Jon's roots take him back to Onida, SD where his parents, Ellis and Pat Millar and brothers, Jess and Jim operated a purebred Angus operation. Jon has always had a love of Angus cattle and at the age of 12, purchased his first registered Angus cow that stemmed from his parents herd, started in 1975. These first cows purchased traced back to the foundation bloodlines of: Traveler 8180, Marshal Pride and Black Revolution. Breezy grew up on her parent's commercial cattle operation east of Sturgis, SD with her parents, Bryce and Sandi Sigman and sisters, Tabitha and Cassie.
Forward to the college years, where Jon and Breezy met at South Dakota State University while rodeoing together. Jon earned a degree in General Agriculture while Breezy majored in Advertising. After college, they purchased 20 registered Angus cows. Then, came the opportunity to lease the ranch where they live today. With the lease came the machinery and the chance to run some cattle on shares. This opportunity, coupled with Jon's custom farming and Breezy's job at KBHB Radio is what helped the Millar Angus herd grow to where it is today.
On February 26th, 2002, the goal they set to someday host their own production sale became a reality when they sold 16 bulls to a crowd of buyers at Philip Livestock Auction, Philip, SD. The Millar Angus herd has expanded over the years and their annual production sale continues to be one of their biggest highlights. In 2015, Jon and Breezy fulfilled another dream by hosting their sale at the ranch in their new sale facility where they sold 120 bulls the third Wednesday in February.
Nearly two decades and two kids later, the Millars can be found right where they started, 20 miles east of Sturgis, SD along the Belle Fourche River. In 2011, they took advantage of the opportunity to purchase the ranch and are proud to call it their own! It is here, you will find Jon, his wife Breezy, son Ryle and daughter Kobi handling the day-to-day operations. You are always welcome to stop by to view the bulls and the cowherd that produced them. They always love to talk cattle! They appreciate all of their past customers and those who have shown an interest in their program. At Millar Angus, they may not be the biggest, but they're striving to be one of the best!